My Blog
Posts for tag: orthodontics
By Prestige Dental Network
December 11, 2018
Sometimes it seems that appearances count for everything—especially in Hollywood. But just recently, Lonnie Chaviz, the 10-year-old actor who plays young Randall on the hit TV show This Is Us, delivered a powerful message about accepting differences in body image. And the whole issue was triggered by negative social media comments about his smile.
Lonnie has a noticeable diastema—that is, a gap between his two front teeth; this condition is commonly seen in children, but is less common in adults. There are plenty of celebrities who aren't bothered by the excess space between their front teeth, such as Michael Strahan, Lauren Hutton and Vanessa Paradis. However, there are also many people who choose to close the gap for cosmetic or functional reasons.
Unfortunately, Lonnie had been on the receiving end of unkind comments about the appearance of his smile. But instead of getting angry, the young actor posted a thoughtful reply via Instagram video, in which he said: "I could get my gap fixed. Braces can fix this, but like, can you fix your heart, though?"
Lonnie is raising an important point: Making fun of how someone looks shows a terrible lack of compassion. Besides, each person's smile is uniquely their own, and getting it "fixed" is a matter of personal choice. It's true that in most circumstances, if the gap between the front teeth doesn't shrink as you age and you decide you want to close it, orthodontic appliances like braces can do the job. Sometimes, a too-big gap can make it more difficult to eat and to pronounce some words. In other situations, it's simply a question of aesthetics—some like it; others would prefer to live without it.
There's a flip side to this issue as well. When teeth need to be replaced, many people opt to have their smile restored just the way it was, rather than in some "ideal" manner. That could mean that their dentures are specially fabricated with a space between the front teeth, or the crowns of their dental implants are spaced farther apart than they normally would be. For these folks, the "imperfection" is so much a part of their unique identity that changing it just seems wrong.
So if you're satisfied with the way your smile looks, all you need to do is keep up with daily brushing and flossing, and come in for regular checkups and cleanings to keep it healthy and bright. If you're unsatisfied, ask us how we could help make it better. And if you need tooth replacement, be sure to talk to us about all of your options—teeth that are regular and "Hollywood white;" teeth that are natural-looking, with minor variations in color and spacing; and teeth that look just like the smile you've always had.
Because when it comes to your smile, we couldn't agree more with what Lonnie Chaviz said at the end of his video: "Be who you want to be. Do what you want to do. Do you. Be you. Believe in yourself."
If you have questions about cosmetic dentistry, please contact our office or schedule a consultation. You can read more in the Dear Doctor magazine articles "Beautiful Smiles by Design" and "The Magic of Orthodontics."
By Prestige Dental Network
March 31, 2018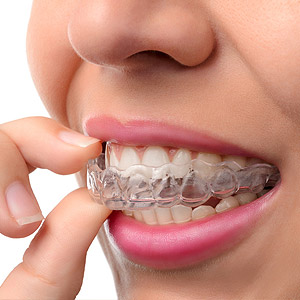 Your teenager is about to take a big step toward better health and a more attractive appearance — orthodontic treatment. You both know the benefits: better chewing function, lower risk of dental disease, and, of course, a straighter and more beautiful smile.
But your teen might also dread the next couple of years of wearing braces. And it's hard to blame them: although they're effective, wearing braces restricts eating certain snacks and foods, they require extra time and effort for brushing and flossing, and they're often uncomfortable to wear. And of high importance to a teenager, they may feel embarrassed to wear them.
But over the last couple of decades a braces alternative has emerged: clear aligners. This form of bite correction requires fewer food restrictions, allows greater ease in hygiene, and is considered more attractive than braces. In fact, most observers won't notice them when a wearer smiles.
Clear aligners are a series of clear plastic trays created by computer that are worn in a certain sequence. During wear each tray exerts pressure on the teeth to gradually move them in the desired direction. The patient wears a single tray for two weeks and then changes to the next tray in the sequence, which will be slightly different than the previous tray. At the end of the process, the teeth will have been moved to their new positions.
Clear aligners aren't appropriate for all bite problems. When they are, though, they offer a couple of advantages over braces. Unlike braces, a wearer can remove the aligner to brush and floss their teeth or for rare, special or important social occasions. And, of course, their appearance makes them less likely to cause embarrassment while wearing them.
In recent years, design improvements have increased the kinds of bites aligners can be used to correct. For example, they now often include "power ridges," tiny features that precisely control the amount and direction of pressure applied to the teeth. They've also become thinner and more comfortable to wear.
If you're interested in clear aligners as a treatment option, talk with your orthodontist about whether your teen is a good candidate. If so, they could make orthodontic treatment for achieving a more attractive and healthy smile less of an ordeal.
If you would like more information on clear aligners as an orthodontic option, please contact us or schedule an appointment for a consultation. You can also learn more about this topic by reading the Dear Doctor magazine article "Clear Aligners for Teens."
By Prestige Dental Network
February 02, 2017
If you're currently undergoing orthodontic treatment, you're no doubt looking forward to the day your braces come off. But that won't end your treatment just yet — you'll need to wear a retainer.
Teeth are held secure in the bone of the jaw by an elastic tissue known as the periodontal ligament. As the braces "pull" the teeth to their new position, the ligament stretches and the bone remodels around the teeth. But the ligament also has a tendency to rebound as the tension eases when the braces are removed. The teeth could then return to their original position, especially during the first few months.
To prevent this patients wear an orthodontic appliance known as a retainer. It maintains some of the tension once supplied by the braces to help keep or "retain" the teeth in their new position. Depending on your age and other factors, you'll have to wear one for at least eighteen months; some patients, especially adults, may have to wear one indefinitely.
You may be familiar with a removable retainer, one you can take in and out of your mouth. But there's another type called a bonded retainer that's fixed to the teeth and can only be removed by a dentist. With this retainer a dentist bonds a thin piece of wire to the back of the teeth where it can't be seen. You can feel it, though, with the tongue: an unusual sensation at first, but one easily grown accustomed to.
Unlike their removable counterparts, bonded retainers aren't noticeable, either to others or the wearer. They're especially appropriate for patients who may not be as diligent in wearing a removable retainer.
It does, though, have some disadvantages. The position of the wire running horizontally across several teeth can make flossing difficult. And as with any retainer, removing it could increase the risk of the teeth moving out of alignment.
There are a number of factors to discuss with your orthodontist about which type of retainer is best for your situation. If you do choose a bonded retainer, be sure you work with the dental hygienist on how best to floss the affected teeth. And if you do have it removed, have a removable retainer prepared so you can preserve that smile you've invested so much into obtaining.
If you would like more information on bonded retainers following braces, please contact us or schedule an appointment for a consultation.